Zanden model 3000 linestage
The Zanden model 3000 represents a major breakthrough in linestage design from one of the world's great audio designers - Kazutoshi Yamada. The Model 3000 is simple yet elegant and its sound is uniquely Zanden - silky smooth midrange, seamless continuity top-to-bottom with authority and slam for large, dynamic musical passages.
At the heart of the model 3000 is a proprietary single-ended circuit, which utilizes a single, dual-triode vacuum tube at its output stage. Although a seemingly a very simple, the implementation poses a high degree of difficulty in order to keep background noise low and create one of the top tube linestages ever put into production.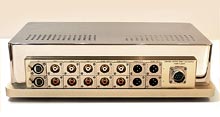 The model 3000 incorporates extremely high grade custom transformers at its XLR inputs and outputs which keep it isolated from noise that might be introduced from other components in the signal conveyance chain. With true differential inputs and outputs, the Model 3000 rejects common mode noise without the use of a signal splitter.
The model 3000 benefits from Zanden's breakthrough research in the use of noise shielding materials. A separate power supply with umbilical ensures that induced hum and vibration from transformers are not in proximity to input or output stages. Only the highest quality parts are used throughout the Model 3000.
The Zanden model 3000 has an elegant appearance which looks as if it was conceived in an artist's studio. The 16 mm thick machined aluminum panels and mirror finished stainless steel cover perfectly match other products in the Zanden lineup.